This is a guest post by Tim Bergsten from Pikes Peak Sports. Pikes Peak Sports is a site for the outdoor community in the Pikes Peak Region. If you're interested in posting on Springs Cycling, please contact us.


Growing up in Deming, N.M., with miles of desert surrounding her, Amy Seltzer relied on her imagination to help pass the day. There were no distractions, no Facebook or cell phone. It was Seltzer, the sand and cactus, and parents who encouraged her creativity.
"I never learned what couldn't be done," said Seltzer, an artist and cyclist who now lives in Colorado Springs. "I was never taught you can do this, but you can't do that."
So when the idea to create the ROLL Bike Art Festival in Colorado Springs presented itself, Seltzer (left) pursued it with confidence. She never considered that it couldn't be done.
"When I started the bike art show, it was a little bit of an uphill battle," she said. "People were like, 'what are you talking about?' But I didn't get discouraged."
She remained persistent, kept an open mind and allowed her imagination to do some heavy lifting. With the help of her friends and fellow artists John and Jennifer Ellis, she launched the first bike art show in 2005.
On Aug. 13-15, the ROLL Bike Art Festival will celebrate its sixth year, with artists from near and far displaying their work at Venue 515 in Manitou Springs. Seltzer has put out a final call for art entries. Deadline is July 19. Contact rollexhibit@gmail.com for more information. A press release about the event can be read here.
A 1993 graduate of New Mexico State University with a degree in plant genetics, Seltzer went to work for the U.S. Forest Service in Lincoln, Neb. She was successful at her work and was encouraged by her employers to earn her a doctorate degree. But her imagination had other ideas.
"I don't know what happened, but I decided I was going to give up everything and move to Colorado and become an artist," she said. "People told me I could be a great scientist. But I had gone to school for four years, I'd worked as a scientist for four years. I decided I wasn't going to do that anymore."
Her creativity was piqued by sports art. She eventually landed in Colorado Springs, attracted to the athletes and activities at the Olympic Training Center. She also began creating art with cycling as the subject matter. Her creative path was set.
"From the first time I drew a bike, I knew, 'this is it,'" she said. "Bike art is so much different. You can see so much about a person's personality when they get on a bike because they are putting themselves on the line. There are different people and they are all different riders."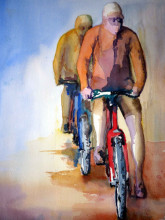 A trip to the Chicago Critical Mass Bike Art Show gave her the idea to do a show in Colorado Springs. The ROLL Bike Art show started at the Smokebrush Gallery, then moved to the Warehouse restaurant. This year mark's the show's debut at Venue 515.
The event has become much more than an art exhibit. Seltzer said she has tried to "let the show be what it wants to be."
"The cycling community wants this show to be something, but it hasn't defined it yet," she said.
But the ROLL show is something different, it is filling a void in the cycling community. "ROLL feels like it wants to be something more," Seltzer said. "Our last year at the Smokebrush, people came at 4 (p.m.) and stayed until 11.
"When we started, we wanted to help build a sense of community among the cyclists in Colorado Springs," Seltzer said. "That was the whole founding purpose."
Since then, organizations such as the nonprofit Kids on Bikes, as well as Bike Month+ have become involved.
"We're all kind of coordinating and networking as we move forward," Seltzer said. But the show has struck a deep chord with the people of Colorado Springs. Seltzer said the artwork, which ranges from pottery and sculpture to oil and watercolor paintings to some that is difficult to describe, helps residents express how they feel about cycling.
"It makes people feel the way they feel when they have that great bike ride," she said. "The reason a lot of people live here or stay here is they want to be on their bike. And their artwork reflects their lifestyle."
One thing is certain, the ROLL Bike Art Festival is popular. Expect a packed house on opening night. The event is a fundraiser for Medicine Wheel.
"I'm trying to listen," Seltzer said. "ROLL is obviously filling something that wasn't there. And now the cycling community is growing and networking and all of these other organizations are stepping forward. Seems like there has always been a need for a social event that is geared toward cyclists. And ROLL has filled that void. And maybe this is Colorado Springs' version of a gala.
Just the idea that people are hanging out is something I ponder. What is this saying? The interest is there. The growth is there. It's obvious that this is not going away. I don't know what it all means, but I can feel the energy in it."